Google Stadia, the platform to play in streaming, returned to the spotlight today, June 6, about three months after its initial official announcement. Today we talked about all those juicy details that were missing then: information on games, prices and launch dates. Here are the most important things that emerged during the presentation. Later we will propose a quick recap of all the other information already known.
Google Stadia can be played initially on TV, desktop computer and laptop, Pixel tablet and smartphone – you will start with 3/3 XL and 3a / 3a XL. On the computer it will be enough to open Chrome, on smartphone there will be a special app Stadia. On TV you will need a Chromecast Ultra. Google says it intends to expand to more form factors in the future, including other smartphone models.
Google Stadia will debut in November in 14 countries. The official website is already online. There are two options available:
Stadia Pro will cost 9.99 euros per month, and will guarantee 4K HDR quality, 60 FPS with 5.1 surround sound. You can buy games at any time, and there will be free ones included with the subscription (for now we start with the Destiny 2 collection). Discounts are also available on the game catalog.
Stadia Base does not have a monthly subscription, you can simply buy the games and use them in all your compatible devices. The quality is limited to 1080p / 60 FPS / stereo. There are no free games or discounts.
If the Pro subscription expires, you can continue to play the purchased titles, with the performance limitations of the Base subscription. There are no official details on how much the games will cost and where they can be bought.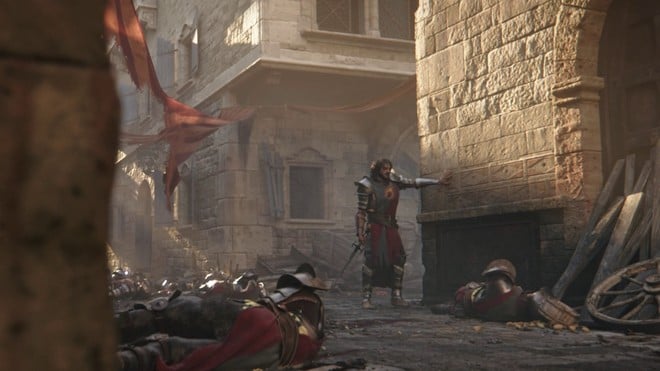 The titles known so far that will be available for launch are the following:
DRAGON BALL XENOVERSE 2
Eternal DOOM
Wolfenstein: Youngblood
Thumper
NBA 2K
Destiny 2 (including the new Shadowkeep expansion)
The Elder Scrolls Online
The Crew 2
The Division 2
Power Rangers: Battle For The Grid
RAGE 2
[EXCLUSIVE PC / Stadia] Baldur's Gate 3
Metro Exodus
GRID
SAMURAI SHODOWN
Football Manager 2020
Get Packed
Assassin's Creed Odyssey
Ghost Recon Breakpoint
Tomb Raider Trilogy
Darksiders Genesis
Just Dance 2020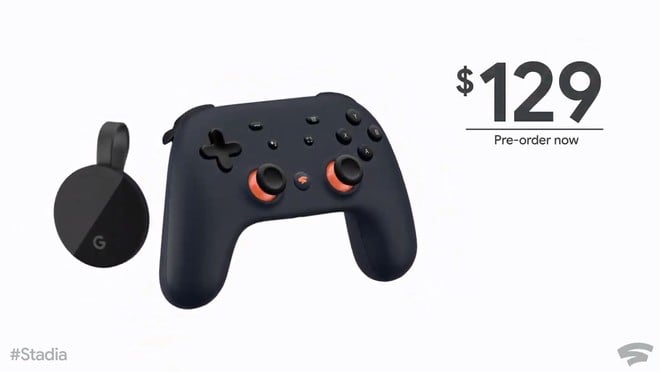 The first players will be buyers of the Stadia Founder's Edition, which costs 129 euros and can be pre-ordered already now.
The Stadia Founder's Edition includes a Google Chromecast Ultra (to play on 4K TV), a limited-edition Stadia controller Night Blue, a three-month Stadia Pro subscription (+ another three to give to a friend or relative: it's called Buddy Pass). It will also be possible to buy a second controller: it will cost $ 69 (let's imagine in Italy it is € 69, since all other prices are converted to $ 1: € 1) and will be available in three colors – Just Black, Clearly White and Wasabi. In addition, an exclusive "Founder" gamertag is provided, and it will be possible to play for free the entire Destiny 2 collection – the whole game, the expansions (including the newly announced Shadowkeep), the season pass and the possibility to transfer your own character from other platforms.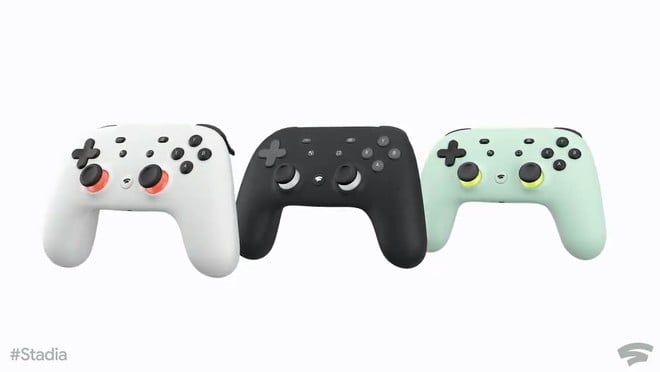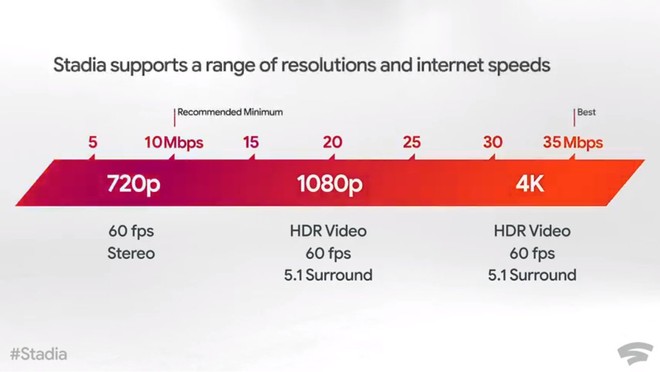 To play at the maximum possible resolution of Stadia Pro, it is necessary to have a connection of 35 Mbps in download and 1 Mbps in upload. The suggested minimum is 10 Mbps for 720p / 60FPS / Stereo quality; for 1080p HDR and surround sound should serve around 20 Mbps. On the official website (link above) there is a tool that allows you to analyze the connection of your device and understand what kind of experience to expect on Stadia.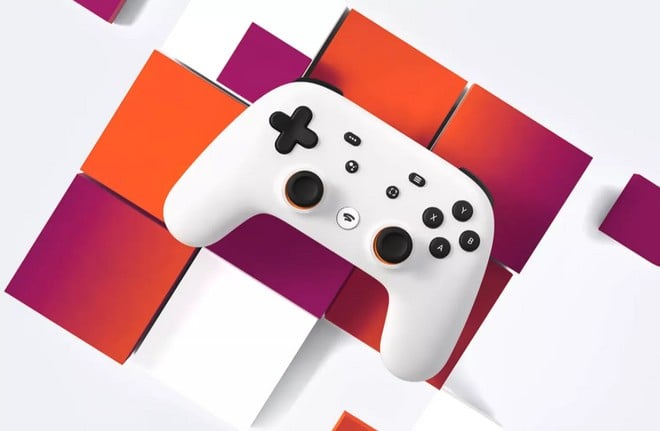 We remember what he already knew from before on Stadia:
It is a platform for streaming gaming: games are running in Google's data centers and are streamed to supported devices. Each server is equipped with a Custom AMD 10.7 teraflops GPU and a custom x86 processor with a 2.7GHz frequency. Multiple servers can be used for title execution, creating a multi-GPU system.
Operation in the cloud relieves the user from the need to have powerful hardware to perform the titles: just a sufficiently fast internet connection (indicatively 25-30 MBbps). The other big advantage: no downloads, no patches, no installation times.
You can play on Stadia with desktops, laptops, smartphones, tablets and, using Chromecast Ultra, with TV and any screen with HDMI input. You can use peripherals such as keyboards, mice, USB HID controllers or the Stadia Controller which offers exclusive features, such as the Google Assistant button
Games can be played initially up to the maximum 4K resolution at 60FPS, with HDR and surround sound
The platform provides special functions to facilitate interaction with YouTube: for example, it will be possible to quickly switch from a game trailer to the actual game and interact in real time with the YouTubers
The title library will include exclusive reserved for Google Stadia users
Will Amazon sell Google gadgets or hasn't the fight yet come to an end?